I am not responsible for the content of the above ads, which are often hilariously mis-matched.
Saturday, January 01, 2005
A few scenes of Christmas decorations chez Sara & Dennis:


Elves and elf heads hung up in a doorway.


Here's a shot of our aluminum tree, which also features decapitated elves and many many feet of bead garlands.

And that would pretty much be it for decorations around here. I never did get our collection of lighted tinsel treetoppers hung up. But I picked up a really awful one when I went to Walgreen's yesterday to get the squishy Puffs with the lotion. It has a vintage-looking round-headed angel in the middle of the traditional lighted tinsel ring. $1.49 of fine kitsch.

Happy New Year! Dennis had a great time at the New Monsoon show last night. I couldn't go because, believe it or not, I am sick again. Same deal, sore throat goes to head cold goes to chest cold. Bah. I couldn't sleep, so I watched the Scariest Movie Moments thing on Bravo after midnight, which was perhaps not the best choice. Me=kind of a wuss.

This ick been going around at church, and I've been such a ball of stress, it's amazing I have anything that would count as an immune system. And of course I had a shitload of things to do this weekend, which did not include sitting on the sofa and bitching and eating lemon drops. And yet that seems to be the only thing I've crossed off my to-do list.

I've pulled the Advent nativities together and put them all here: Cavalcade of Bad Nativities.
link | Comments []

Wednesday, December 29, 2004
Check out the excellent present the fairy godchild's parents gave me: Singing Bible Keychain.

I love love love it. I also am now the proud owner of a cast-iron nun bottle opener. Yay!
link | Comments []

Tuesday, December 28, 2004
new post: it's got knitting! jacuzzi! godzilla!
Christmas was good, and the next day Dennis and I drove down to Santa Cruz to spend the night. The weather was kind of bleh, all drizzly and gray, which is probably why I reacted the way I did to the In-Room Jacuzzi sign when we pulled up to our cheap motel. Not a difficult decision at all; the place was nearly deserted and they gave us a good rate on the upgrade. The tub was huge - one of those corner ones that holds two happy people and their hastily-purchased rubber duck. The trip really wasn't what we had planned - we got a late start, we decided we didn't want to deal with the crowds to go to the movies in the afternoon as we had planned, and the places we wanted to eat were closed. But everything still worked out great, and it turned out that what my body needed more than anything was multiple rounds of serious tub soaking. We sprawled on the bed and read magazines and my fun retro Christmas book for most of the evening, between soaks. We had planned to go to the Monterey Bay Aquarium the next day, but the weather was worse and we decided to just get home, after a really tasty breakfast. Mine involved hollendaise sauce. Mmmmmm.

The trip was our Christmas present to each other, although Dennis also got a partially-finished sweater, because everyone loves that. I've been working on it since the women's retreat in November, but only finished the front and back and half of a sleeve by Christmas. It's the Very Manly Sweater from Stitch-n-Bitch, done in charcoal grey heather wool. It's going to look amazing on him once I, you know, finish it.

And, of course, I got to see the fairy godchild and her parents and that rocked like a hurricaine. It had only been six weeks or so since I had seen her, but her vocabulary has really expanded (water! outside! NO!). I had some of the leftover bubbles from the goody bags we handed out Christmas Eve (yes, the bottles have snowman heads and say "Jesus Loves You Snow Much!" I don't want to talk about it.) at my desk, and amused her this afternoon by blowing tons of bubbles. I didn't finish her present, either, but she is fifteen months old and things are exciting whenever they happen in her world.

One present I did finish was a set of Godzilla Mittens for Leigh.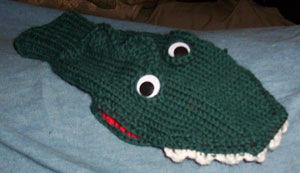 They're adapted from the Later Gator mitts from Stitch-n-Bitch Nation - vague and confusing directions for how I did that are here.
link | Comments []