I am not responsible for the content of the above ads, which are often hilariously mis-matched.



Saturday, October 31, 2009

One of the good things about living in silicon valley is that there are so many ASD kids here that the school districts have programs in place for them starting at age 3 when they age out of Early Intervention services. So Isaac is now in a small (six kids!) preschool class just for kids on his part of the spectrum, with extra speech therapy a couple times per week. The class time is twice as long as his Early Intervention class was, so we ramped him up with partial days the first week, but now he's going for five hours a day and really likes it. He's happy and excited to get there every morning.

The evaluation the school district did at the beginning of October was the first eval where he's been fully tested for cognitive ability, and he scored just fine and age-appropriate in that area. I knew his little brain was whirring, but it was nice to see it in black and white. He has made a lot of progress in language and socialization in the last six months, but of course those delays are still the most significant. The report also called him cute, so that's official.


I didn't have the energy to do anything awesome for Isaac for Halloween this year; he was quite happy to run around in his skeleton jammies from Gymboree, and he was a damn cute little skeleton. That's good enough for this year.

The hardest thing for me right now is that I am so focused on all the great progress Isaac is making that I get kind of blindsided when I'm around neurotypical kids and see what the rest of the two- or three-year-olds are up to. And then I feel deluded and pathetic for being so pleased with how well he's doing, when there is still so much ground to cover. I'm still trying to find the right balance of optimism and concern I guess.

He's being super-affectionate lately; he has a move where he sort of wraps his arms around your head and squeezes you close to him. He's also trying to figure out how to give kisses, but for now it's kind of awkward and slimy (and sweet, of course, but mostly awkward and slimy).

Gratuitous cuteness: Isaac drives a fire engine.



link | Comments []


Saturday, October 10, 2009

Isaac's birthday party was last Sunday, and I'm finally getting around to recapping!

The theme of the party was Plan 3 From Outer Space, obviously a riff on a certain b-movie.

I did some space decorating on the back patio. The wind did a number on the fringe on the roof.

The lattice is covered with CDs.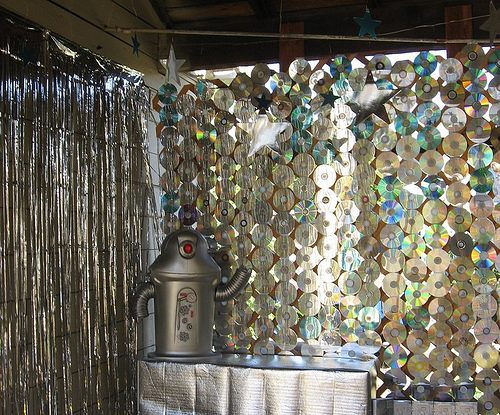 I also taught myself the fine art of spray-paint spacescapes. I am now qualified to paint the sides of rusted-out vans. I thought the results were reasonably decent, though. The first project is a sunshade over Isaac's sandbox/rock quarry. The sun really beats down on it in the afternoon, so I painted an old blackout vinyl shade and attached it under the canopy.



The banner is another old roller shade. It didn't take the paint as well as the other one did.

Isaac loves numbers, so I made a countdown banner using scrapbook paper.

What we really want to see is THE CAKE, right? Leigh suggested a UFO cake. This is what she came up with:





It's a silver spaceship full of little green tentacled aliens, beaming me and Dennis up.



I have never been gum paste before! There are windows to see what the aliens are up to - namely, all of Isaac's favorite activities!

Playing with trains:


Splashing in a wading pool:


Eating pretzels:


Climbing:



In between the windows were infinity mirrors. The whole thing took multiple 9-volt batteries to power all the LED lights. There was also a powered turntable to spin the saucer. (more details on the cake are here!)




The party itself was fun; we had a bounce house on the front lawn. Isaac loved it.




I can't believe he's three. Today was his birthday and we declared it Isaac-Palooza: Everything Isaac Loves Day. Which isn't all that different from his usual weekend routine, of course. We went to the farmer's market and saw the big clock strike 11 and watched Mighty Machines and went to the park. So far, Isaac really likes being three!




2006
3lbs
15"


2009
27.5lbs
35"



link | Comments []





current
February 2005
January 2005
December 2004
November 2004
October 2004
September 2004
August 2004
July 2004
June 2004
May 2004
April 2004
March 2004
February 2004
January 2004
December 2003
November 2003
October 2003
September 2003
August 2003
July 2003
June 2003