I am not responsible for the content of the above ads, which are often hilariously mis-matched.
Friday, October 08, 2004

Here is the sweater I knit for the fairy godchild. It's quite pink.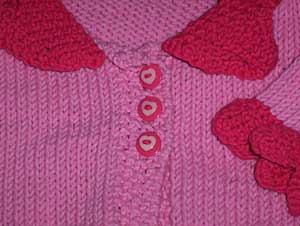 The buttons are 2 buttons layered together. I put some of the pink hearts on the top of the hat, also.

link | Comments []

Thursday, October 07, 2004
"Even the most depraved Barbie Doll collector couldn't top this"
Dollhouse people can be weird. Miniature crime scenes. Created 40 years before CSI.

I myself am a former dollhouse person. Won a prize in a talent show for one of my vignettes, I did. I was 15, I think. Anyway, it's probably for the best that I never thought of this, since I spent enough time in the school counselor's office as it was.
link | Comments []

Wednesday, October 06, 2004
being really REALLY self-referential
I just went back and re-read what I wrote about tithing last year, and ya know what? I still like it, and don't have much to add.

Sara talks about money

I'm coming up on another skool for geekons weekend, so my brainpower is pretty much all focused in that direction. Except tonight, when I'm going to hang out with Ryan and special guest star Leigh, who is in town this week.
link | Comments []